How to organize the operational, financial and environmental management of its hardware park?
From workstations to data centers, including connected devices, an organization's hardware park is made up of various material assets that require fine financial, operational, and environmental management.
STATE OF PLAY
Hardware represents around 30% of IT department's operational budget, and 64% of IT department's environmental footprint. Its management poses significant operational, financial and environmental challenges:
An increase in the number of connected devices: 15 per French person in 2022, compared to 7 in 2018 [1]
Increasingly consuming devices: "Windows 10 and Office 2019 require 171 times more RAM than Windows 98 and Office 97." [2]
Exponential increase in usage: Global data traffic estimated at 175 ZB in 2025, compared to 33 ZB in 2018 [3]
Budgetary issues: 48% of IT managers believe their budget is out of alignment with business needs [4]
Lack of knowledge of the IT park: Only 4% of companies claim to know the proportion of IT equipment in their total energy consumption [5]
In a tight financial context, with imposed energy efficiency and tightening regulations, organizations must regain control of their IT park. Inventory problems, non-centralized asset management, non-tracking of indicators, and lack of internal expertise on ITAM and Sustainability are the main causes of these difficulties.
ITAM?
ITAM is a subset of IT Asset Management (ITAM). Hardware Asset Management (HAM) focuses exclusively on the physical components of the information system. HAM starts from the expression of the need and acquisition of the material, continues throughout its lifespan and ends with the removal of the component.
A useful HAM approach costs an average of 1.5% to 4% [6] of the total annual hardware expense and presents many opportunities that go beyond simple operational facilitation. The implementation of an adapted HAM approach makes it possible to facilitate computer inventories, but also to ensure continuity of activity, optimize the use and allocation of resources, reduce the number of breakdowns…
IT equipment in the carbon balance
The hardware park represents a significant part of the IT department's carbon footprint. In fact, IT equipment is not just "electricity consumers": they have an environmental impact throughout their life cycle: production, use, end of life. The distribution of impacts on these 3 stages depends on the type of equipment, usage scenarios, location etc… To understand these environmental impacts, they must be measured (via a carbon footprint for example). The implementation of a Responsible Digital approach allows to reduce this environmental footprint, to reduce its electricity consumption, but also to be more resilient to shortages of components.
UNDERSTAND AND ACT
To address the 3 operational, financial and environmental challenges, it is necessary to start by understanding its park, the needs associated with it, as well as its environmental footprint. Then, it is necessary to act, by optimizing the lifecycle of equipment, anticipating the evolution of its park, following the right indicators (operational indicator examples: utilization rate,% of ghost assets…), implementing a responsible purchase policy…
To understand its park, it is necessary to answer the following 3 questions:
What do we have? (type and number of assets)
What are our needs? (type and list of needs)
What do we use? (consumption of hardware resources)
And to answer these questions, solutions exist: inventory tools, discovery tools… without forgetting to cross-reference sources. These inventory and census actions make it possible to have a good visibility on its park, and to facilitate the implementation of the internal processes necessary to systematically answer the above 3 questions.
On the environmental side, the most common way to know and understand its environmental footprint is to carry out a carbon balance.
FOCUS ON CARBON BALANCE
Once the carbon footprint measurement is done (data collection, formulation of hypotheses, calculation of emissions), it is customary to make an action plan to reduce this footprint. The actions are then characterized in terms of impacts and feasibility and placed on a matrix (see below) where it is possible to identify the "low hanging fruits": These are the actions that have a big impact and that are easy to implement, and are therefore the priority actions to be put in place.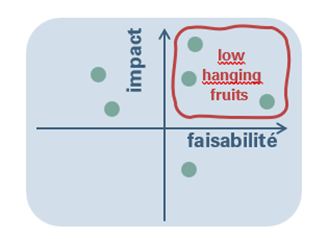 Concretely, these actions can be of various natures, and concern the internal or external lifecycle of equipment: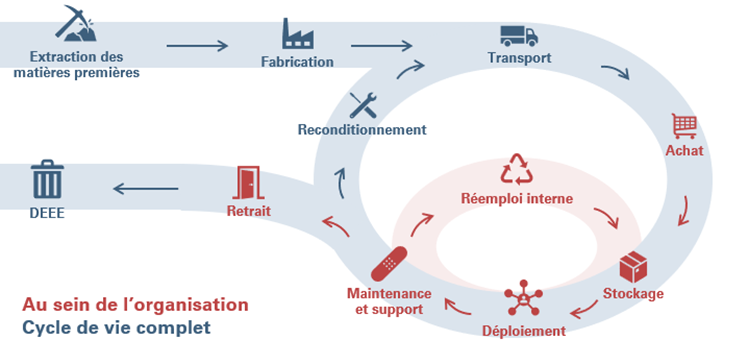 | | |
| --- | --- |
| Example of direct actions. | Example of indirect actions. |
| Promote the sharing of equipment. Optimize equipment storage. Subscribe to warranty extensions. Encourage maintenance and repair of equipment. Implement internal reuse processes based on user profiles. | Implement a responsible IT purchasing policy. Request LCA from its suppliers. Donate functional equipment or send them to a reconditioning channel. Ensure proper collection and treatment of WEEE (Waste Electrical and Electronic Equipment). |
It is also possible to anticipate changes in the equipment:
Anticipation of technological changes, through work on user needs
Anticipation of technical failures, through regular maintenance and monitoring of interventions
Anticipation of increased hardware needs, through inventory management
Reactivity (in response to changes in energy costs, for example) through control of consumption
On the 3 issues discussed here, you can follow indicators: % of ghost assets, total hardware expenses, carbon footprint… to verify your gains.
In conclusion, to organize the operational, financial and environmental management of its hardware equipment, it is necessary to first understand it. This understanding comes from monitoring assets, user needs, equipment usage and the environmental footprint of the IT equipment. A good understanding of the equipment will allow you to act in a relevant way and follow the right indicators in the long term. The idea here is to measure, optimize and anticipate, for a more serene management of the hardware equipment.
[1] On average, each French person owns 15 connected devices, by Le Progrès (2022)

[2] x171: the growth of the weight of our software, by Frédéric Bordage (2020)

[3] The Digitization of the World, by IDC Global DataSphere (2018)

[4] IT Spending & Staffing Benchmarks, by Computer Economics (2022)

[5] Barometer of Green IT practices of companies in France, by AGIT (2020)

[6] Elée